Reliable, Professional and Honest Service
At Horvath's Chimney Service, customer satisfaction is our top priority. We are committed to providing affordable and reliable chimney care with outstanding customer service. With over 20 years' experience in the chimney service industry, you can rely on Horvath's. Horvath's Chimney Service offers a full suite of chimney services and products. Whether it's woodstoves, fireplaces or chimneys, we understand the intricacies of the venting systems in your home. We're equipped to address all of your maintenance and safety needs.
Our Services:
Chimney Caps / Top Mount Dampers
Some of the Reasons Your Chimney
Needs a Chimney Cap/Top Mount Dampers!
A good chimney cap keeps things from getting into your home. It keeps out the rain and keeps out birds, squirrels, and other varmints. A chimney cap prevents leaves and debris from entering your home and inhibits backpuffing. What is backpuffing you ask? It's when fireplace smoke comes back into the house and can result from several factors, including downdrafts. Finally, and maybe most importantly, a chimney cap prevents any water damage. When paired with a "Heat Reflector/Heat Shield" you're completely protecting your chimney and your home! Give us a call or email us to get started on protecting your home and chimney!
The best way to prevent moisture from rain and snow, animals, leaves, and other debris from entering your chimney is to install a chimney cap.
---
Top Mount Dampers
Huge heat loss occurs when a chimney damper doesn't seal properly or is missing or broken. You can't see it, but the heat just goes right out of the house. If your chimney's damper isn't sealing properly it is like leaving the front door open in the middle of winter! Top Mount dampers are a simple, cost effective solution to heat loss.
If you think your chimney may be damaged, need a part replaced, or just needs rebuilt, give us a call or email us and we can get started with our chimney and masonry repair services.
Chimney Inspection & Sweeping
The primary job of a chimney service and chimney repair professional is to aid in the prevention of fires related to fireplaces, wood stoves, gas, oil and coal heating systems and the chimneys that serve them through good installation and chimney inspection. Chimney sweeps install, clean and maintain these systems, evaluate their performance, prescribe changes to improve their performance and educate the consumer about their safe and efficient operation.
In doing their primary job of fireplace inspection and chimney sweeping, chimney professionals also function as on-the-job fire prevention specialists. They are constantly on the lookout for unsafe conditions that can cause home fires or threaten residents with dangerous or unhealthy indoor air quality.
A professional chimney sweep can recognize signs of a rust chase cover, improperly sealed top mount dampers, and other potential dangers to your chimney, so make sure you have regular chimney services done to ensure you won't suffer in the cold winter months.
If you would like a professional to do a fireplace inspection on your chimney, please contact us below or give us a call! We have provided chimney cleaning and fireplace inspection for many residents in the Reading, Morgantown, Wyomissing, Lancaster, as well as the Chester, Chester Springs, and Glenmoore PA areas.
Stainless Steel Liner
Our Home Guard Stainless Steel Liner by Royal Chimney Supply is designed to reline existing chimneys or be used in new construction. It is manufactured in the highest-grade mill certified alloys. These liners give a gas-and-water-tight lining system a superior strength and durability. Its corrugated construction allows for expansion and contraction during the heat up and cool down periods, removing any stress on the system!
Deteriorated flues tiles can allow gases to enter the home. Cracked or broken flues can also collapse to the base of the chimney causing a puff back which leads to soot getting all over your home. Yuck! If your chimney flue is unlined, loose brick and debris can also potentially fall to the base of the chimney or become clogged partway up the chimney.
Relining of a chimney with a stainless steel liner prevents a homeowner from having to rebuild an entire chimney.
All liners have a lifetime warranty available.
Chase Covers
It's important to replace rusty chase covers!
If you have a rusting chase cover that looks like this one, give us a call! We can replace it with a new stainless steel chase cover that will not rust out. In new home construction, builders use a galvanized sheet metal to make chase covers. Usually within 10 to 15 years after being exposed to the elements, this galvanized material will begin to rust out, causing ugly stains down the chimney and it often starts failing and begins leaking. Leaks can lead to massive damage to your chimney and home with the moisture and elements they let in and can go unnoticed for a long time. Make sure to check that you have a quality stainless steel chase cover installed. Call before the cold winter or wet rainy months ruin your chimney!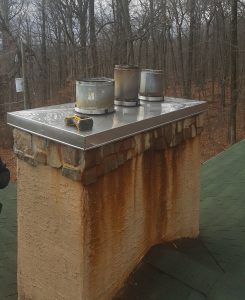 If you have any reason to think you need to replace a chase cover, please email or call us! We have provided chimney cleaning, repairs, and replacing parts like chase covers for many residents in the Reading, Morgantown, Wyomissing, Lancaster, as well as the Chester, Chester Springs, and Glenmoore PA areas.
Masonry and Brick Repairs

We offer the full range of chimney repairs to chimney systems, big and small. Our company provides high-quality brick repointing and brick rebuilding for chimney repointing and repair. We provide a service to spray the chimney with a masonry water repellent. We also provide various repairs to all parts of the chimney. The elements gradually damage your chimney bit by bit, especially the mortar holding the bricks together. If you don't have your chimney repointed, the masory weakens and this can leave your chimney vulnerable to worse damage like leaks. Make sure your chimney is protected and still beautiful by protecting and maintaining the masonry.
While inspecting the chimney we will make certain to check the crown of your chimney.
Horvath's has provided chimney cleaning, repairs like crown repairs, and replacing parts like chase covers and stainless steel liners in addition to fireplace repair and veneer installation for many residents in the Reading, Lancaster, Glenmoore, Douglassville, and Morgantown, as well as the Robesonia, Chester Springs, and Wyomissing PA areas. If you have any reason to think you need masonry, brick repointing, brick rebuilding, or chimney repair or repointing, feel free to email or call us with the contact info below.
Stucco Repair
Have you checked the stucco beneath your windows? Do you check on spots where your home is exposed to water? Do the edges of your stucco chimney look smudged or stained? If those spots are darker than the surrounding stucco, you need stucco remediation! Abnormal dark spots in stucco could be a sign of water damage or a weak spot that could potentially become damaged. We provide stucco repair to get those cracked, faded, and water-damaged areas back to their former glory.
As professionals, we are trained to properly repair stucco and discover what other damage may have been done. Stucco damage is often a sign of more damage and leaks. In addition to stucco, we provide river rock stone veneer installation and brick veneer installation.
Horvath's Chimney and Stucco Services specializes in small repairs of stucco remediation. We can repair stucco below windows, on chimneys, and in other places the sun could fade or water could damage. We provide stucco services to Robesonia, Morgantown, Wyomissing, and Chester Springs, as well as the Reading, Lancaster, and Glenmoore PA areas.
Call us for free estimates on repairs and installations.
Jason Horvath, Owner
Address:
4740 Morgantown Road
Mohnton, PA 19540
Phone:
(484) 478-4920
(717) 330-5005
Email: horvathchimney@gmail.com