Horvath's has over 20 years of experience in the chimney service industry and offers a full suite of chimney services. From replacing old parts to maintenance and inspections, we aim for reliable services at affordable prices for our customers.
Chimney Inspection & Sweeping
The job of a chimney professional is to provide services and repairs that aid in the prevention of fires related to fireplaces, wood stoves, gas, oil, and coal heating systems and protect chimneys through good installation and diligent chimney inspection. Chimney sweeps install, clean and maintain these systems, evaluate their performance, prescribe changes to improve their performance and educate the consumer about their safe and efficient operation.
Chimney professionals are on-the-job fire prevention specialists in ensuring the fireplace and chimney are not at risk of damaging your home or inhabitants. They recognize and locate issues that can cause unsafe living conditions or water damage as well. Regular inspections and chimney cleaning can help reduce the risk to you and your home and ensure your chimney and fireplace work efficiently in the cold months.
If you would like a professional to do a fireplace inspection on your chimney, please give us a call!
Chimney Caps
Chimney caps are an important part of protecting the chimney from damage. They are the part of the chimney that keeps things like debris, rain, or rodents from crawling or falling into the chimney. It also inhibits backpuffing that can cause fireplace smoke to blow back down the chimney. One of the most damaging things a chimney cap keeps out is rain and moisture that could potentially damage the chimney itself. When you have a good chimney cap and a "Heat Reflector/Heat Shield," your protecting your chimney and home from damage.
If your chimney cap has gotten damaged or rusty, there's a good chance it's no longer preventing water damage, so give us a call to get started of protecting your chimney and home.
Top Mount Dampers
Top mount dampers, or chimney dampers, create a seal that prevents heat loss. A broken or missing chimney damper can cause heat loss similar to leaving the front door open in the winter! Check if you have a top mount damper and give us a call if it's missing or broken. We have chimney repair and maintenance services to make sure your chimney is the best it can be.
Stainless Steel Liner
Our Home Guard Stainless Steel Liner by Royal Chimney Supply is a liner to protect the insides of your chimney to avoid having to completely rebuild it. We install it in newly constructed chimneys as well as old chimneys in need of repair. If you have an old chimney that hasn't been repaired recently, you may benefit from installing a stainless steel liner.
What does it do? Unlined chimneys can potentially accumulate cracked or broken flues and broken flue tiles. These can cause gas to leak into the home or backpuffs to blow smoke down the chimney. A stainless steel liner created a water and air tight lining that is strong and durable. It's also designed with corrugated construction that allows for expansion and contraction in different temperatures, reducing stress from the system.
All liners have a lifetime warranty available. If you want to get started on installing a liner, give us a call!
Chase Covers
Do you have a chase cover that looks like this? If it's rusty like this one is, it will begin failing to prevent leaks and water damage. In home construction, galvanized sheet metal is often used for the chase cover, but it only lasts 10-15 years before it rusts and leaks. It also causes ugly stains to run down the sides of the chimney. Check if your chimney has nasty rust stains running down it because it could be a sign something is rusted and no longer functioning properly. The worst part of a rusty chase cover is the massive water damage that can come from the leaks that let the elements into your home.
We replace your rusty, old chase covers with stainless steel chase covers that won't rust like galvanized sheet metal and can protect your chimney and home for longer. Call before the cold winter or wet rainy months ruin your chimney!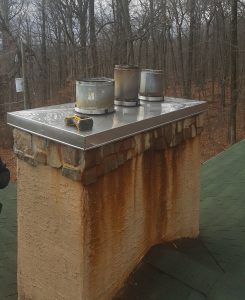 We have provided fireplace and chimney cleaning, repairs, and replacing parts like chase covers for many residents in the Reading, Morgantown, Wyomissing, Lancaster, as well as the Chester, Chester Springs, and Glenmoore PA areas. Do you need your chimney bricks repaired or replaced? We also provide masonry services like brick repointing and spraying water repellent to make your chimney water resistant.